Introducing the Chariotz Parts Finder Powered by Prime Auto Parts: Your Ultimate Source for Quality Used & Remanufactured Auto Parts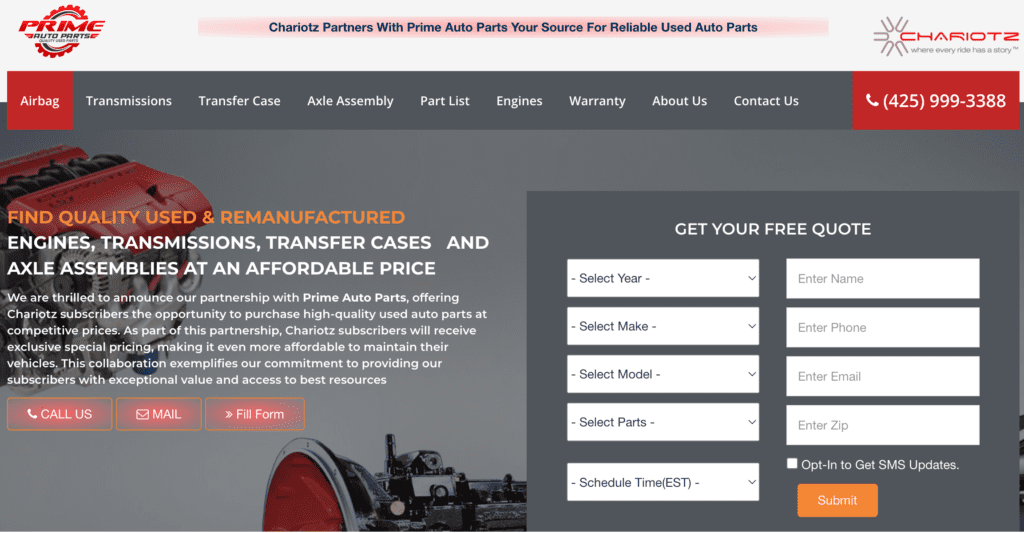 Explore a Wide Selection of Engines, Transmissions, Transfer Cases, and Axle Assemblies at Unbeatable Prices
We are beyond excited to announce our newest addition to the Chariotz platform: the Chariotz Parts Finder, powered by our esteemed partner, Prime Auto Parts. This strategic collaboration allows Chariotz subscribers to effortlessly search for and purchase high-quality used auto parts at competitive prices. Additionally, as a Chariotz subscriber, you will receive exclusive special pricing, making vehicle maintenance even more cost-effective. This partnership demonstrates our unwavering commitment to providing our subscribers with exceptional value and access to the best resources in the automotive industry. Visit our Parts Finder at https://ww3.chariotz.com/parts-finder to experience the benefits firsthand!
Why Choose Prime Auto Parts?
Prime Auto Parts is the ultimate one-stop shop for used and rebuilt engines, transmissions, transfer cases, and axle assemblies for a wide range of vehicle makes and models. They offer an extensive selection of options, including petrol and diesel engines, automatic and manual transmissions, electric engines, and transmission assemblies, ensuring that you find the perfect part for your vehicle. Prime Auto Parts' extensive inventory includes used engines, transmissions, transfer cases, and axle assemblies at discounted prices, with convenient locations all across the US.
Over the years, Prime Auto Parts has earned an impressive reputation for providing the highest quality products in the industry. Their dedication to excellence is evident in every product they offer, as they consistently exceed industry standards. Whether you need replacement car engines, remanufactured transmissions, transfer cases, SRS airbags, or crate engines, you can trust Prime Auto Parts to deliver top-notch products that will surpass your expectations in every aspect.
The Chariotz Parts Finder: Convenience at Your Fingertips
With the Chariotz Parts Finder powered by Prime Auto Parts, you can now access an extensive database of used and remanufactured auto parts for your vehicle right from the comfort of your home. The user-friendly interface allows you to easily search for and compare the best parts at unbeatable prices. This powerful tool is designed to streamline the process of finding the right parts for your vehicle, saving you time and money.
Experience the Chariotz Parts Finder Today!
The Chariotz Parts Finder, in collaboration with Prime Auto Parts, aims to revolutionize the way you search for and purchase auto parts. Don't miss out on this game-changing opportunity to find the best parts at unbeatable prices. Head over to https://ww3.chariotz.com/parts-finder and start your search for the auto parts you need today. Your vehicle will thank you, and so will your wallet!
Last Updated: April 24, 2023