A Review of Drop Stop: The Best Car Seat Gap Filler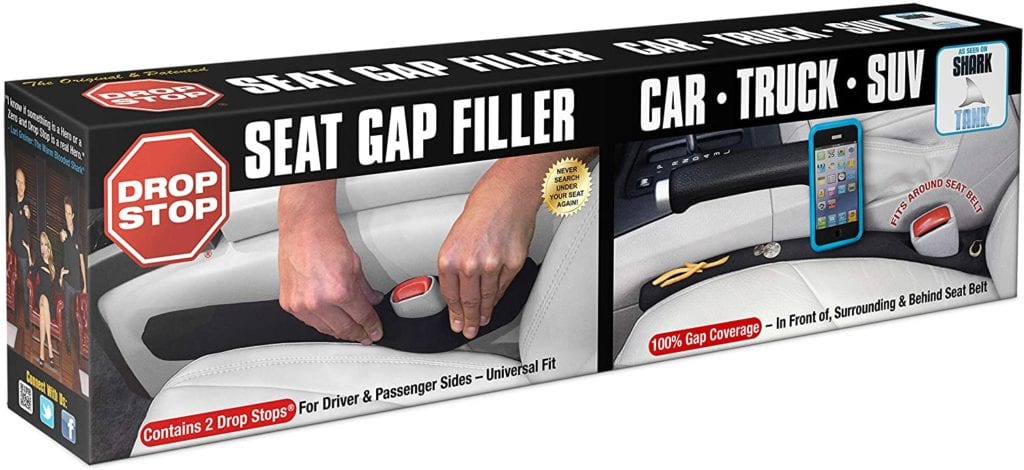 There's nothing more frustrating than dropping something in your car and it goes down the gap between the car seat and the center console. You're forced to blindly looking for the item with your hands, trying to wedge your hand down the crevice, and tweaking your fingers in ways they never should. But in the end, you're left with nothing.
If you don't ever want to experience this ever again, get yourself a seat gap filler. This innovative product solves one of the most common problems car owners deal with almost daily. And if you want the best of the best, then the Drop Stop seat gap filler should rank high on your list.
As seen on Shark Tank
You may have heard of Drop Stop from the hit TV show, Shark Tank. The product looked so promising that it received a sizeable sum of money from investors. Drop Stop's primary goal is to block the annoying gap between the car seat and center console. It's the original seat gap filler and continues to be the best despite more products entering the market.
100% gap coverage
What sets Drop Stop apart from the competition is that it offers 100% gap coverage. It comes with a built-in slot that attaches to the seat belt latch, keeping it securely in place. It also moves with the seat. This seat gap filler covers all areas surrounding the seat belt catch for maximum coverage.
Get two Drop Stops
When you buy this package, you get two Drop Stops. One is for the driver's side, while the other is for the passenger side. If your car companion is the one who frequently drops things into the dreaded gap, then worry no more.
Universal size
The Drop Stop can be used on any car make or model. Its size fits most vehicles. Of course, there are a few exceptions, so be sure to check the dimensions of your car seat before purchasing. It also comes with a high-grade neoprene casing, which allows it to contract or expand accordingly to the size of your car's gap. And with its dark shadow color, you'll never know it's there after installation.
Drop Stop is a simple product that solves a common problem. It keeps your eyes on the road, thus helping prevent accidents. It's surprising how seat gap fillers haven't been around for longer than they have. Without question, this is a must-have in your car, so
visit Amazon and check out the latest price
.
Last Updated: January 19, 2021