Short Stories – 2016 Aston Martin, Lamborghini, McLaren Supercars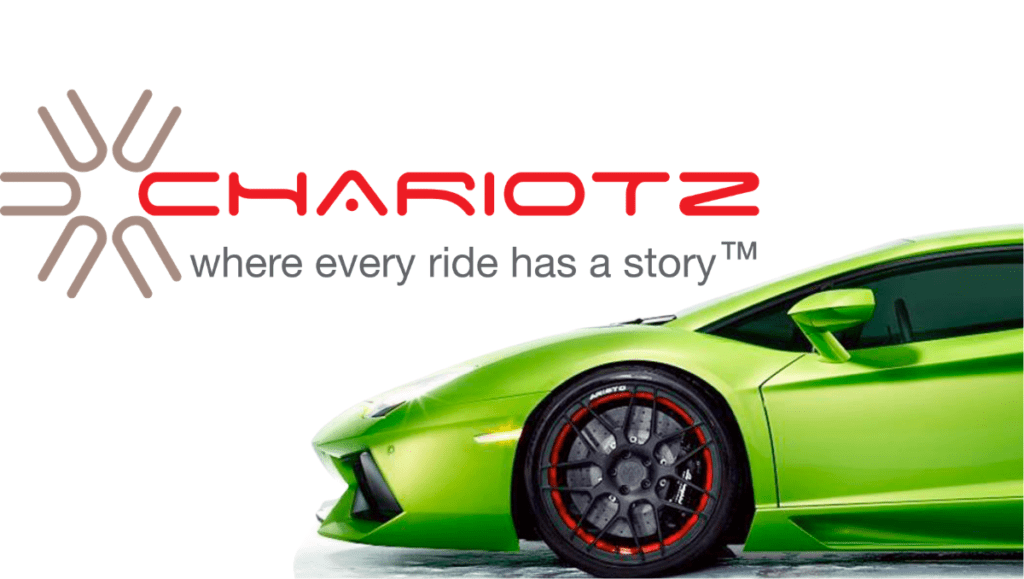 This post is a part of a series we recently started, to give you quick but informative summaries of every model available from a vehicle manufacturer in the USA. These posts should give you enough information to decide whether a particular model fits your needs as an owner and driver. Once you have read these summaries, you can choose to explore each model further using the vehicle manufacturer's site or other sources. You can see our previous posts on the 2015 BMW Models HERE, 2016 Porsche Models HERE, 2016 Mazda Models HERE, 2016 Audi Models HERE, and 2016 Ford Models HERE.
This week we are highlighting three brands that build some of the most beautiful, powerful and fun-to-drive supercars available today – Aston Martin, Lamborghini and McLaren. Here are summaries of their 2016 models. Enjoy!
ASTON MARTIN
Aston Martin DB9 GT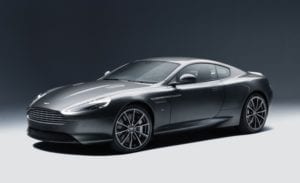 Offered in a coupe or a convertible model, the 2016 Aston Martin DB9 line-up is enriched with a greater sense of sport. The basic DB9 is replaced with the DB9 GT for 2016 equipped with a host of upgrades. One of the most redeeming properties of the 2016 Aston Martin DB9 GT is noted when pressing the accelerator pedal. Adding 30 extra horsepower to what was present with the outgoing DB9, the DB9 GT's 6.0-liter V12 engine generates a total of 540 horsepower. A mid-mounted six-speed automatic transmission translates the twelve-cylinder engine's power into 0 to 62-mile per hour acceleration in 4.5 seconds. Other notable features shaping the DB9 GT are new 20-inch alloy wheels, black-painted front splitter and rear diffuser as well as revised headlights. Billed as a grand tourer, the DB9 is a 2+2 passenger machine fitted with snug rear seating. A full array of interior customization touches offered with the DB9 GT includes the choice of Duotone leather seating as well as a steering wheel design inspired by the limited-production One-77. For 2016, a limited release of 150 Aston Martin DB9 GT Bond Edition vehicles will honor the upcoming James Bond movie Spectre with an exclusive paint color and special badging.
Aston Martin Rapide S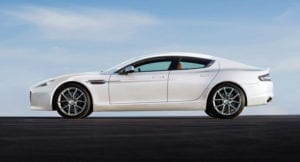 Featuring four passenger doors but featuring DB9-like exterior styling, the Aston Martin Rapide S is among one of the best executed versions of the recently popularized four-door sports car concept. The Aston Martin Rapide S gained a little extra spring in its step in 2015 thanks to an all-new transmission. An eight-speed automatic gearbox is located with the rear axle assembly. The transmission paired with the 2016 Rapide S' 552-horsepower, 6.0-liter V12 engine pledges to offer 0 to 60-mile per hour acceleration in 4.2 seconds (a 0.5-second improvement over the 2014 model). The interior of the 2016 Aston Martin Rapide S is configured to provide each rider a sense of race-like performance. A four-passenger layout for the Rapide S features an extended center console dividing the two passenger bucket seats. New inside the four-door coupe from Aston Martin is the company's new touch-sensitive infotainment system. The AMi II infotainment system not only provides revised controls for comfort and entertainment features but also delivers engine data in a comprehensive manner.
Aston Martin Vantage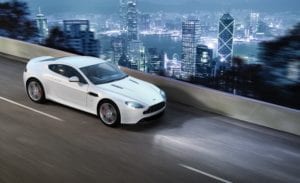 Offered as a coupe and a drop-top with a V8 or V12 powerplant, the Vantage resides as Aston Martin's entry-level product. Eight-cylinder powered 2016 Aston Martin Vantage's performance can also be increased through the N430 trim level. Available as a hardtop and roadster, the Vantage N430 coaxes an addition 30 horsepower from the 4.7-liter engine utilizing modifications found on Aston Martin's GT4-prepped vehicles. Along with the added momentum of 430 horsepower, 2016 Vantage N430 models shave-off just more than 44 pounds thanks to the use of carbon fiber seats and lightweight alloy wheels. The special edition Aston Martin Vantage N430's power is also complemented by five bold race-inspired exterior color schemes. The top end of the 2016 Aston Martin Vantage's performance scale is still commanded by the V12 S model. The 6.0-liter twelve-cylinder engine propelling the Vantage V12 S is excited by 565 horsepower. Two additional exterior colors and an array of interior personalization touches are added to the 2016 Aston Martin Vantage line. Another improvement found inside of the 2016 model year Vantage is the AMi II infotainment system. Serving as an in-car audio entertainment interface, this new touchscreen infotainment unit also broadens the performance sensation of the Vantage with real-time readings for engine horsepower and torque.
Aston Martin Vanquish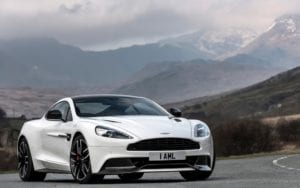 Described as the "ultimate grand tourer" by Aston Martin, the Vanquish represents the British vehicle brand's peak in class and performance refinement. Constructed on the same platform as the Aston Martin DB9, the Vanquish employs aggressive performance styling shaped through strong yet lightweight carbon fiber body work. Weight minimization across the 2016 Vanquish coupe as well as the drop-top Vanquish Volante is instilled as a defining characteristic of the Aston Martin Vanquish. Powered by the brand's AM29 V12 engine, the 2016 Aston Martin Vanquish is influenced by 568 horsepower and 465 pound-feet of torque. Through an eight-speed Touchtronic III transmission, engine power is provided in a manner that supplies stunning performance for the lightened grand tourer. Able to run from 0 to 60 miles per hour in 3.6 seconds, the Aston Martin Vanquish can motor up to 201 miles per hour. The gearbox included on the 2016 Vanquish is combined with a sophisticated stability control system featuring a 'Normal' and 'Track' driving mode. Professional motorsport stopping power of carbon ceramic matrix braking technology is reinforced by a strengthened brake booster. The Vanquish is offered with a 2+2 seat or could be factories fitted as a 2+0 configuration with a deleted rear seating row.
LAMBORGHINI
Lamborghini Aventador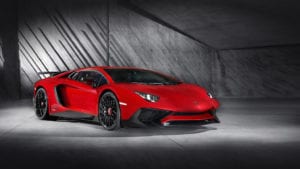 A high-speed and advanced supercar, the Lamborghini Aventador is among one of the fastest accelerating production vehicles in the world. The 2016 edition of Lamborghini's flagship is offered with greater high-performance flavor. In addition to the LP-700-4 model available as a hardtop and convertible roadster, a lighter more powerful Superveloce version of the 2016 Lamborghini Aventador is now available. Utilizing carbon fiber and aluminum construction, the structure of the all 2016 Aventadors is optimized for superior handling. For the Aventador LP-700-4 variant, an automatically adjusting rear spoiler deploys at high speeds. Lamborghini's scissor doors open to a two-passenger cabin that can be customized to the wishes of an owner to many possible colors and leathers. A full array of controls is clearly presented to the attention of the driver along with a TFT instrument panel. Powering the Aventador LP-700-4 is a 6.5-liter V12 engine generating 691 horsepower. The Lamborghini Aventador LP-750-4 Superveloce or SV provides an extra amount of performance charge to the bull-badged supercar. Engine propulsion is boosted to 740-horsepower allowing the supercar to accelerate from 0 to 62 miles per hour in 2.8 seconds. All versions of the 2016 Lamborghini Aventador feature a Haldex all-wheel drive and a seven-speed independent shifting rod transmission. The 2016 Aventador Superveloce additional aerodynamic features such as a prominent manually adjustable rear wing and a magneto-rheological damping suspension.
Lamborghini Huracan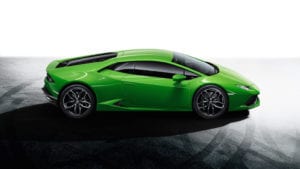 Replacing the prominent Gallardo in 2014, Lamborghini's Huracan has provided Italian high-performance charm at a lower price than the brand's other supercar (roughly more than $150,000 less than the Aventador). Boasting a similar appearance and a mid-engined, all-wheel drive layout to the Aventador, the 2016 Lamborghini Huracan LP-610-4 stands on its own as an exciting sport machine. The 2016 Lamborghini Huracan employs a combination aluminum/carbon fiber chassis and highly-aerodynamic, lightweight body shell. Standard equipped 20-inch wheels are surrounded by Pirelli tires. Arriving as a hardtop, the 2016 model year will provide the first time customers can choose a drop-top convertible version of the Lamborghini supercar. The premiering Huracan LP-610-4 Spyder features the same powertrain and driving dynamics of the hardtop but is uniquely equipped with a soft top roof. Propulsion for the 2016 Huracan LP-610-4 is sourced from a 5.2-liter V-10 engine combined with a 7-speed dual-clutch transmission called a Lamborghini Doppia Frizione gearbox. A maximum output of 602 horsepower and 413 pound-feet of torque flows through the electronically-controlled all-wheel drive system of the 2016 Lamborghini Huracan LP-610-4. The 2016 Huracan's 0 to 62 miles per hour acceleration times can be measured in as little as 3.2 seconds. The two-passenger interior compartment of the Huracan incorporates a design philosophy Lamborghini defines as "form follows function". The standard sport seats feature an electric headrest. Fully-adjustable seating and heated seats are optional on the Lamborghini Huracan. The Lamborghini Huracan line-up also features the race-prepped Huracan LP-620-2 Super Trofeo model featuring slightly more horsepower and is solely rear-wheel drive.
MCLAREN
McLaren 570S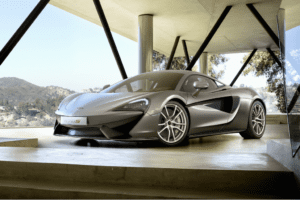 Still priced well in the six-figure range, the McLaren 570S is a slightly more affordable machine priced roughly $100,000 less than the 650S. The McLaren 570S provides more core supercar ideals without some of the more expensive pieces found on other McLaren models. Basic styling and construction utilizing a carbon fiber MonoCell II tub are features of McLaren's high-end cars incorporated into the 570S.  Though detuned for greater affordability, the McLaren 570S still uses a version of the  twin-turbocharged, 3.8-liter V-8 engine found on the 650S and 675LT models. Producing 562 horsepower and 443 pound-feet of torque, the 2016 McLaren 570S needs only 3.2 seconds to launch from 0 to 62 miles per hour. The sports car is capable of a top speed of 204 miles per hour while a suite of high-tech handling aids such an open differential with Brake Steer technology means confident cornering for the 570S. An Active Dynamic Panel offers the driver total control of powertrain and chassis characteristics. The seven-speed dual clutch transmission can be operated in Auto mode or can allow the driver to select gears manually through a steering wheel-mounted shifter paddles. The entry-level McLaren 570S also provides the most option from the supercar brand for an everyday driver. A user-friendly interior layout features a TFT instrument display for the driver and a floating center console containing the seven-inch touchscreen control for the vehicle's infotainment system.
McLaren 650S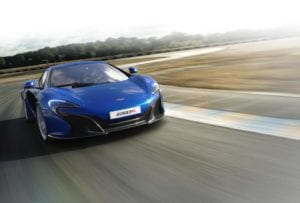 The basis for McLaren's top production sports car, the 650S is demoted from the position of being the performance leader for 2016 but continues to set the atmosphere for the brand. Available as a stylish coupe or a thrilling open-air Spider convertible, the 2016 model year 650S makes a dazzling showing with its smooth aerodynamic appearance, LED lighting, McLaren's signature dihedral doors and active airbrake. Extensive carbon fiber construction is used on the McLaren 650S including in the MonoCell that encompasses the cabin. A dizzying rainbow of colors is provided to customers of the McLaren 650S and is mixed and applied by hand to a high standard. While carrying a base price roughly identical to the 2015 version of the vehicle, the 2016 model year McLaren 650S has added some considerable new standard accessories. Carbon fiber pieces outside and inside infuses Formula 1-style high-performance styling to every 2016 McLaren 650S supercar. A twin-turbocharged 3.8-liter V8 engine delivers 641 horsepower worth of movement for the McLaren 650S. A seven-speed dual clutch transmission is paired with the high-performance McLaren power unit. Through the powerplant, the 650S supercar's rear-wheel drive allows provides enough force to launch the vehicle from 0 to 62 miles per hour in three seconds flat. Top speed for the 2016 McLaren 650S is rated at 207 miles per hour. A driver and passenger are provided with the firsthand experience of encountering the performance vehicle's momentum inside a uniquely luxurious interior. A specially-prepared seven-speaker Meridian audio system is equipped inside the 650S. Limited to just 50 units, the McLaren 650S Can-Am celebrates the heritage established by the race car builder's successful sports car competition effort in 1966. Can-Am models come in three special color schemes and sport special carbon fiber bodywork as well as special wheels.
McLaren 675LT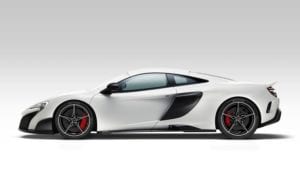 The McLaren 675LT is similar to the 650S but features several unique styling and performance differences. Noted in the name supercar's name is the power as well as one key feature. Propelled by a 666-horsepower (measured as 675 PS in Europe) version of the twin-turbocharged 3.8-liter V-8 engine, the McLaren 675LT possesses 25 horsepower more of momentum. The 'LT' lettering references the vehicle's longtail design inspired by a design used on the famed McLaren F1 GTR. On the 2016 McLaren 675LT, the vehicle's aerodynamics exhibited with carbon fiber bodywork delivers greater downforce than the 650S. Reduction in weight compared to the 650S equates to 100 kilograms (220.46 pounds lighter overall design) utilizing a lighter carbon fiber seating and a thinner windshield. Ultra lightweight alloy wheels are centered inside Pirelli P-Zero Trofeo R tires. With the combination of aerodynamic tailoring, lightweight construction and 666 horsepower, the 675LT sails from 0 to 62 miles per hour in 2.9 seconds. Top speed for the 2016 McLaren 675LT is rated at 205 miles per hour. Providing orderly stopping to the McLaren 675LT, a carbon ceramic braking system allows the vehicle to slow to a standstill from 62 miles per hour in just 99 feet. A large airbrake is incorporated with the longer tail section of the 675LT supercar. An Alcantara interior is standard inside the McLaren 675LT providing a high-texture racing feel to the two-seat cabin.
We hope you enjoyed reading these summaries of the 2016 Aston Martin, Lamborghini and McLaren Models. If you have friends who could benefit from this blog post, please use the Share buttons.
If you are a fan of these supercars, check out some unique ones HERE.
Tell us which brands you would like to see next by leaving a comment below.
Last Updated: November 18, 2020